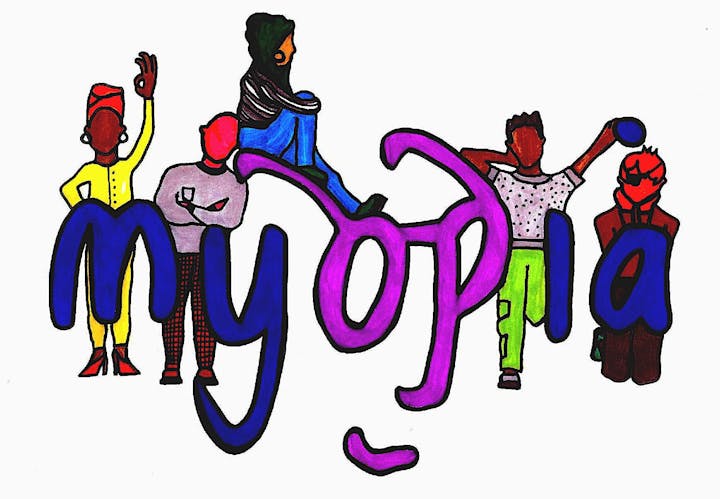 About Project Myopia
In December 2016, Toby Sharpe and Rianna Walcott were awarded an Innovation Initiative Grant by the University of Edinburgh Development Trust to create 'Project Myopia', connecting globally disparate people with concerns about education reform. This website is devoted to diversifying university curricula through crowdsourcing material from students, revolutionising the way that curricula are designed.
They display regular submissions of material (visual, literary, cinematic, musical etc) students feel their curricula would benefit from, focused on increasing diversity. We want more LGBTQ options, more works created by women, non-binary people, differently abled people and people of colour. These submissions take the form of semi-academic personal essays between 750-1000 words, explaining the work, its relevance to the reviewer's personal experience, and most importantly where this work could fit on a university curriculum and why it is worthy of study. Our contributors are based in a range of countries, and we hope that this project will have a global impact in revolutionising pedagogical practices.
If you would like to contribute with artwork or a review, please email us at projectmyopia@gmail.com with your name, institution (if applicable), and how you would like to get involved!
Social Media Intern vacancy:
This role is for a social media intern for Project Myopia, who will manage and oversee social media content on Twitter, Instagram and Facebook. Our ideal candidate will design posts using apps such as Canva, liase with the editorial intern to create calls for contributors on our channels when pitches are dwindling, support the outreach intern with content for a monthly newsletter.
We aim for 3 Instagram and Facebook posts per week, and at least one tweet a day. Content can overlap between platforms, and be scheduled in advance using Buffer. New articles need to be posted across all platforms, and links to old articles and art should also be posted occasionally. Content may also include relevant current news, events, exhibitions or films people should see that fit our profile, Instagram grid posts and stories.
The role will be paid at £70 per month (based on the UCL Research Assistant rate – £16.57 per hour), and the time commitment is quite light – work would not exceed approx. 4 hours per month, and this can be done at your convenience across the month. Please email us at projectmyopia@gmail.com with a CV and brief cover letter.
Project Myopia Workshop
Date: 3 April 2019

Project Myopia's April workshop was a student-led discussion on the topic of liberating the curricula in the humanities. We shared scenarios drawn from student experiences in order to workshop inclusive responses to common classroom microaggressions. We're campaigning for a curriculum that is more diverse in every sense of the word, (while, of course, maintaining standards of the highest quality), and is particularly more representative of the diversity here at London's universities.
Project Myopia Anniversary
Date: 24 April 2019

In April 2019 Project Myopia celebrated the two-year anniversary of our website by hosting an event at Ugly Duck in Southwark, which brought together many of our contributors, editors and artists, as well as a panel of Black queer people from institutions across the UK who are committed to similar decolonial work. The evening was an opportunity for those interested in inclusivity in education to network and share best practice.
This was an opportunity to celebrate Project Myopia's work so far, and to provide a space for activists from a number of different organisations, or those who want to get involved in activism, to come together to discuss bettering our collective future.
—
Call for writers
If you would like to contribute with artwork or a review, please email us at projectmyopia@gmail.com with your name, institution (if applicable), and how you would like to get involved!